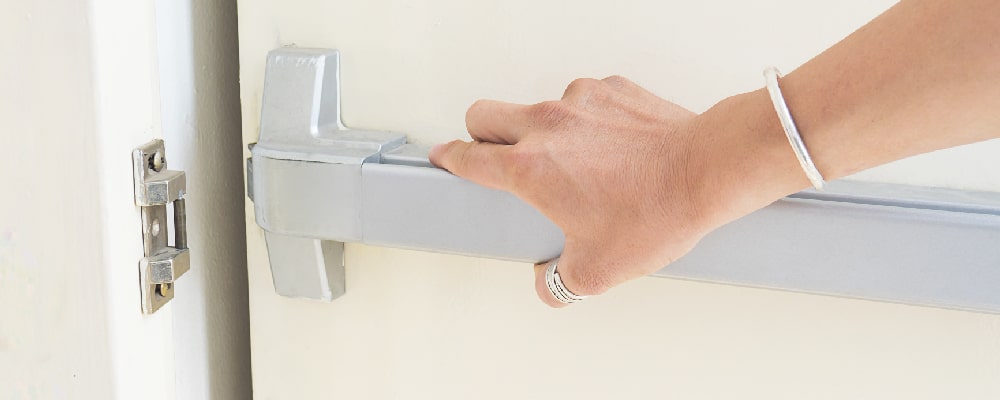 Push Bar Toronto For Your Business
Push bar, also called panic bar, touch bar, crash bar, push bumper, bull bar, or surface vertical rod, is an opening mechanism device that is used to unlock doors during emergency situations.
It's a horizontally, spring-loaded metal bar placed on the inside of a door that opens outwards.
It's easy to use and enables people to leave the building quickly.
A door can be opened by simply pushing the horisontal push bar.
The advantage of this bar is that a person cannot open it from outside.
Such door can be opened from outside only with a key.
A push bar will help you to keep employees and patrons safe in case of an emergency. 
beeside safety issue, push bar is a quick solution for people to exit a building or move to another hallway.

Push Bar Installation
At Unlock A Lock, we can assist with any commercial locksmith work and we can quickly install push bars for your business.
No matter where in the Greater Toronto Area you do business, we'll come to you and install it.
Why Are Push Bar Popular?

The bars area known also as fire exit bars because they saves lives and prevents injury.
The doors are fire resistance and once they are unlocked, they protect people in other rooms from fire and smoke.
In an emergency the bar is simply pushed and out you go.
These doors are popular in reail buildings, and restaurants to give employees a quick access to go out of the building while carring supply. 
At the same time, the door is not accessible from outside without a key. 
So a person who leaves the building does not need to secure the door. 
The panic bar is the easiest way to unlock a door during emergency conditions.
One push and it's open.
Our locksmiths have installed all types of commercial door hardware and commercial locks.
Let us help to keep your staff and patrons safe.
See more about commercial door repair Toronto service.
When emergencies happen, seconds count.
Don't let panicking crowds bottleneck at your emergency door.
Install a panic bar on your commercial metal door.
It's perfect when you have to make a fast panic exit. 
It even comes with an optional alarm (usually popular in retail facilities).
A building has exit doors with push bar, but those doors are not for regular use. 
They are normally use in case of emergency.
If someone attempts to exit using the door it will sound an alarm. 
In those instances, a sign is push up on the door to warn people that the door can only be accessed in emergency situations.
The doors are corrosion resistanct and they last for many year with little maintnanace.
Call to schedule an installation or repair. Don't take your commercial safety for granted.

Where Can A Panic Bar Be Installed?
Push bars can be installed on metal doors in:
commercial buildings
office doors
factories
hospitals
government buildings
exit doors
fire exit of retail buildings
many more.
Unlock A Lock has a wide veriety of push doors .
Most of the push doors selection comes in stainless steele, 
We have done many custom fit push bars for unique doors and special requirements. 
Why Hire Unlock A Lock?
We offer the best brands and an experienced staff with the right tools to install them.
We do quality work at competitive prices and in a timely manner.
The best time to install a safety bar is now, before an emergency happens.
Let us install it for you.
Unlock A Lock is a family owned and operated company.
We do our best locksmith work for businesses every day.
We offer warranty on all our work and products. 
Our staff has the tools, talent and experience to help you select the right lock and quickly install it.
We serve the Greater Toronto area and all surrounding areas. Please, call us today and speak with our customer service to install a push bar on your commercial door.