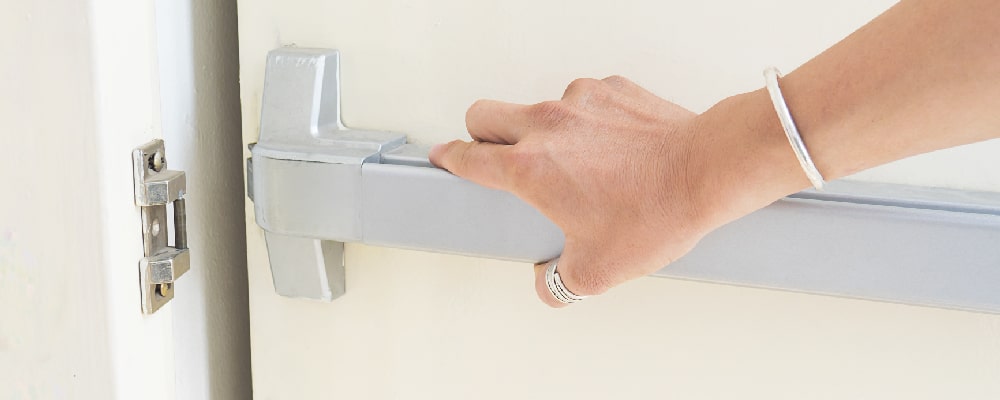 Push Bar Installation and Service
When you are needing Push Bar installation or repair on your commercial doors, we are your local Commercial Lock and Door experts.  The safety and security of any business cannot be overemphasized. We, at Unlock A Lock Locksmiths are proud to offer the very best in personnel, service, materials and equipment to ensure that a business has advanced technology in this area.
Family owned and in business since 2002, we offer services to the Greater Toronto Area and all surrounding areas with 24/7 availability. We send a mobile commercial locksmith unit that is fully equipped with all materials necessary for installation or repair as well as a highly skilled locksmith to take care of your needs any hour, day or night.
It is extremely important to be able to unlock a door during emergency conditions. This allows a fast exit and assures safely for personnel as well as any customers that are on the premises. As a result, most businesses have a spring-loaded metal bar on the exit door or doors, called a panic bar or push bar. The manufacture of this push bar is made under government commercial safety regulations to assure that it will work correctly when needed.
A push bar can have an optional alarm that is an extra security feature for businesses. When pushed, this would indicate if someone is leaving the building illegally and is an excellent security against thefts. In addition, it can be locked when the business is secured for the night or holidays.
We, at Unlock A Lock, are proud of the high quality service we extend to our customers. With our 24-hour a day service we are able to offer technical service for any size business, and offer free estimates as well as unbeatable rates. Give us a call today for any locksmith concerns you may have and one of our highly skill personnel will assist you.
Unlock A Lock's Push Bar Services in the Greater Toronto Area – 24/7