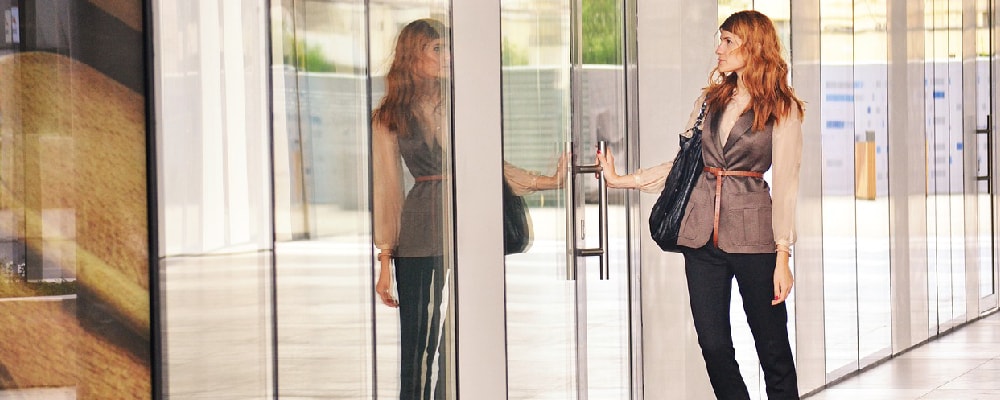 Commercial Door Repair Toronto, Door Service Pro
Unlock A Lock technicians are experts in commercial door repair in Toronto and the Greater Toronto area.
Our technicians have at least five years of experience and can complete any commercial door service request.
As one of Toronto top commercial door repair, we take pride in our quality of work that we provide on commercial doors.
We provide prompt and quality 24 hours locksmith in Toronto and the serrounding area, every day of the year.
We provide estimate upfront, so no hidedn fees. We like to work this way so the expectations from both sides are set.

Everything You Need For Your Commercial Door Service
Unlock A Lock is a one stop for all your business, industrial, and commercial needs. 
With so many years in the busienss, we want to be sure that you don't need to call anyone else when we work with you.
From door repair to door installation, we've got it all. 

Commercial Door Locks
We provide door service and hardware for all commercial doors. Locks are the main security components of the door. Here are some of the most common locks that we work with:
Cylindrical Lever Locks
Keypad Door Locks
Commercial Electric Strike Locks
Door Hinge Repair" href="https://unlockalock.ca/door-hinge-repair-toronto/">Door Hinge Repair
Electric Opener Lock

Our Toronto Commercial Door services extends to all companies in Toronto and the Greater Toronto Area, providing technical support and experience for small, large, and governmental infrastructures.
We do offer valuable insight into the security measures necessary for your company and employees, as well preventative measures to better protect you against future problems.
Types Commercial Door Repair Service
Unlock A Lock services all types of commercial doors including:
Door Replacement
Storefront Doors
Sliding Door
Pivot Repair
Broken Door
Door Frame Repair
Door Hinge Repair
Track And Rail Repair
Interior Door Installation
Exterior Door Installation
Shops Doors
Enterance Doors
Steels Doors
Frames For Commercial Doors
Fire Rated Doors
Aluminum Doors
Metal Doors
Retail Properties
Exit Doors
Commercial Door Hardware
Emergency Exit Doors
Push Bar
Panic Bar
Automatic Doors
Handicap Door Openers
Door Closer
Commercial Metal Doors, Including Hollow Metal Doors
Commercial Breakins
Office Security
Interior Commercial Door Lockout
Commercial Building Lockout Services
Commercial Glass Door and Glazing Repair
After Break-in Security & Repair Services For Commercial Doors

Storefronts
Retail Stores
Government buildings
Airport Terminals
Industrial Buildings
Heavy Manufacturing Buildings
Warehouses
Multifamily Properties
Hotels
Office Buildings
Park Buildings
Self Storage Facilities
Bowling Allies
Medical Offices
Schools
Hospitals
Factories
Plazas
24-7 Emergency Door Repair Service
Unlock-A-Lock specializes in residential, commercial and automotive locksmith problems, with well equipped and highly trained technicians.
We are qualified to meet all your needs with specialized and confidential care.
When you want a fast 24/7 Emergency Locksmith in Toronto, the team at Unlock A Lock is ready 24/7 every day!
Emergencies may happen and can often cause you much stress, time and money.
Prevention is needed, but not always possible, so when a locksmith emergency strikes, contact our Unlock A Lock team now to save you money and time.
Unbeatable Locksmith Customer Service
Our company offers unbeatable customer care with qualified personnel for every call to help you with any type of lockout services or lock changes, and provide for you detailed estimates so you do not have to be concerned with hidden fees.
Unlock A Lock offers comprehensive year-round packages to aid you and your company when you need it most right near you.
Our commercial door repair Toronto team offers 24-7 on call support, including weekends and holidays, and they are right near you.
We do free appraisals for the workplace so you can be well informed of the security needs for your business without the extra expenses.
Trusted Commercial Door Technicians
When you want a top Toronto residential locksmith, we are here for you anytime!
A residence is not a home until it is safe, welcoming and protected.
At Unlock A Lock, we take pride in making your home secure and safe before or after a break-in.
Our team of expert technicians will gladly help you in taking the necessary steps to prevent a break-in and insure that your home is safe and secure again if another break-in is attempted.
Unlock A Lock has day and night on-call services for any locksmith problem you face, getting you the assistance you need for your problems on-site, without concern.
Not only does our team specialize in commercial lockouts and break-in protection and prevention.
We also provide aesthetic upgrades for you.
Upgrades will most certainly add a balanced look to your busienss, as well as increase the value commercial property.

Commercial Storefront Doors Repair & Replacement
A nicely designed door draws the attention of clients who walk in. Make a positive impression and let us install a door from Unlock A Lock.
Whether it's your office or storefront we will make sure that your door is safe and secure to protect your business and livelihood.
When we provide door service to busineses and storefronts we also do small jobs such as pivots, door closer, panic bar, and hinges.
Our 24-7 storefront door service ensures that you recieve the service when you really need it near you all across Toronto and the greater Toronto area quickly and efficiently.
Many frontstore businesses have glass windows and doors. We have a complete selection of glass doors and parts.
We want to make sure that your door is maintained and secured. Call us to learn how we can help you to save money on a new storefront door.
Commercial Door Repair Near You
We are available 24-7 for commercial door repair near you. Call us today for a service or a quote at (416) 662-7903 and our Toronto commercial door repair will be on their way to your business.