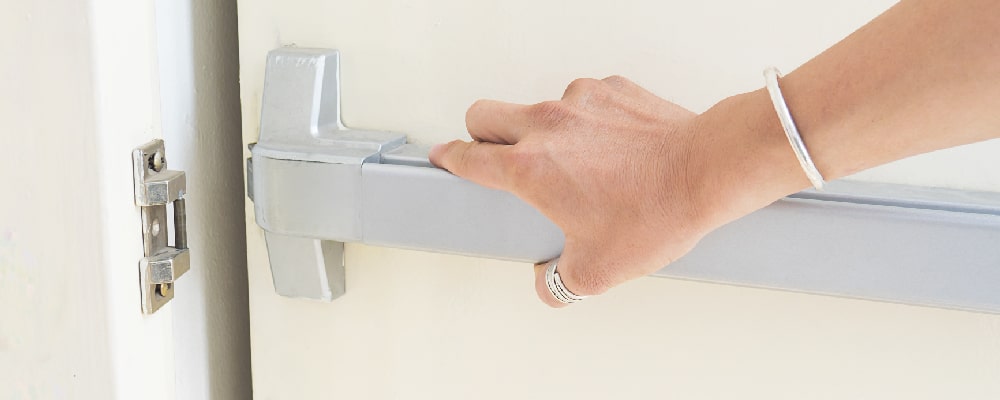 Panic Bar Installation and Service
A panic bar is a device which is used to unlock doors during emergency situations.
It's a horizontally, spring-loaded metal bar placed on the inside of a door that opens outwards. It's easy to use and enables people to leave the building quickly. You simply push a lever and the door opens. We at Unlock A Lock  can quickly install panic bars for your business to help you keep employees and patrons safe in case of an emergency. No matter where in the Greater Toronto Area you do business, we'll come to you and install it.
A panic bar saves lives and prevents injury. In an emergency the bar is simply pushed and out you go. We offer the best brands and an experienced staff with the right tools to install them. We do quality work at a fair price and in a timely manner. The best time to install a safety bar is now, before an emergency happens. Let us install it for you.
Unlock A Lock is a family owned and operated company. We do our best locksmith work for businesses every day. Our staff has the tools, talent and experience to help you select the right lock and quickly install it. The panic bar is the easiest way to unlock a door during emergency conditions. One push and its open. Our locksmiths have installed all types of commercial door hardware and commercial locks. Let us help to keep your staff and patrons safe.
When emergencies happen, seconds count. Don't let panicking crowds bottleneck at your emergency door. Install a panic door. It's perfect when you have to make a fast exit. It even comes with an optional alarm. But it must be properly installed. Call or fill out our contact form here to schedule an installation or repair. Don't take your commercial safety for granted. We serve the Greater Toronto area and all surrounding areas.
Unlock A Lock's Panic Bar Services in the Greater Toronto Area – 24/7